Sandy McKee has built his reputation among reverse mortgage lenders in the Tucson area as someone who cares much more about the satisfaction of the clients under his care than he does about simply closing a deal.
Sandy is exceptional among reverse mortgage lenders in that he focuses on helping borrowers live the retirements that they had always dreamt of having but had never realized that they could afford.
The largest asset that most Americans have – especially as they enter retirement – is their home equity. Yet many retirees are unaware of what reverse mortgage lenders can do for them that taking out conventional home equity loans could not achieve.
As one of the leading reverse mortgage lenders serving the Tucson area, Sandy is committed to helping seniors improve their retirement lifestyle and reach their retirement goals. He has worked with many satisfied clients and considers the relationships he builds with each client to be an essential part of his job as a reverse mortgage lender. See the testimonials below to learn more or contact Sandy today to learn how a reverse mortgage can help you.
---
"As a low income female senior, the reverse mortgage has provided me with financial independence. Since I have no mortgage payments, I am able to live a healthier, more comfortable life. I have no problem paying for the necessities including taxes, insurance, HOA dues, food, clothing, utilities and maintenance of my home. My choices included moving in with my kids, or worse, having them choose my living selection, move into assisted living, having a roommate or settle for a tiny one room apartment! The reverse mortgage has provided me with financial independence and I am currently taking dance lessons!"
– NV Tucson, AZ
---
"Ron and I appreciate everything that you did for us. Having been in the business for many years, it was nice to work with a caring and professional individual. We believe that we made the right choice in choosing to proceed with a reverse mortgage. We've got money in the bank, and yet will truly enjoy our home. Thanks again for all you did. I would refer my friends to you if ever asked."
– NH Tucson, AZ
---
"We initially contacted Sandy at Sunstreet Mortgage via the Internet, email and telephone when we decided to relocate to Tucson, AZ. Although it was at least six months in advance, Sandy was always available to answer any questions and to reassure us that he would be available every step of the way on our reverse mortgage. He provided us with a list of credit counseling companies in order to us to obtain our Certificate of HECM Counseling, which is a requirement for the reverse mortgage. Sandy was very knowledgeable about the reverse mortgage and worked with my realtor to provide a seamless effort in obtaining our reverse mortgage. Our realtor was very impressed with his knowledge, which facilitated us in finding our dream home. Sunstreet Mortgage made the reverse mortgage process very clear and the financial benefits are an enormous help with our retirement allowing us security for the future. He and his company are very professional, knowledgeable, very responsible, and extremely kind and respectful with clientele. Also, we felt that even after we closed our reverse mortgage that Sandy was available to answer any questions or concerns that we might have with our reverse mortgage. We would not hesitate to use or recommend Sandy McKee and Sunstreet Mortgage with any mortgage requirement that may arise in the future."
– CC & SH Green Valley, AZ
---
"It was a real pleasure working with you, and you made me feel very comfortable and you were extremely helpful in all aspects of the reverse loan. I would be more than happy to be a testimony to your expertise as well as your personal dedication to making your clients comfortable and informed."
– SW Tucson, AZ
---
"A reverse mortgage has provided us with a great deal of flexibility financially. We bought a second home in Colorado with the proceeds!"
– KN Tucson, AZ
---
"I paid off my mortgage and now have a nice nest egg in my savings account. The reverse mortgage was a great choice for me and my family."
– JF Tucson, AZ
---
"I used the reverse mortgage to purchase my home. I had no idea you could use a reverse mortgage to purchase a home. I could not be happier with the process and I would recommend to friends and family."
– PM Nogales, AZ
---
"We are no longer struggling to make our monthly mortgage payment. What a relief!"
– LS Sunsites, AZ
---
"Sandy clearly explained the reverse mortgage options as well as the pros and cons of a reverse mortgage,"
– T.M. Tucson, AZ
---
A Dedicated Commitment to Customer Satisfaction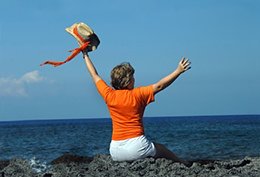 Sandy has been working as specialized a reverse mortgage lender in Tucson, Arizona for over 15 years, and he has accumulated a trail of happy customers during that time.
Unlike reverse mortgage lenders who are only interested in closing and moving on to the next prospect, Sandy works with each borrower in depth to find out what they want to achieve with their retirement. In this way, he works more like an adviser getting to know each client and his or her financial situation. Other reverse mortgage lenders might not be all that interested in getting to know their borrowers, but Sandy's personal touch is something that his clients have brought up again and again.
He takes the time to get to know each client because it is important to structure this particular kind of mortgage in an intelligent way so that each client gets the most out of their money. For example, for borrowers who want a predictable cash flow stream that is similar to an annuity, monthly payments are the best way to structure it. For people who need to finance expensive medical treatment, a lump sum payment may be the best choice. For borrowers who would like to pay off large expenses and remain in their home, the lump sum payment is also a great way to fill any holes in the family balance sheet.
Ultimately, a reverse mortgage lender can help you determine the best approach for your reverse mortgage. Call Sandy today to find out more about what reverse mortgage solutions are available and how these can meet your needs.