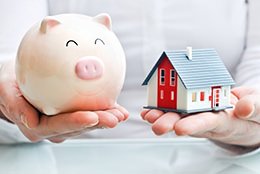 Sandy McKee is one of the premiere Tucson home loans experts working at Sunstreet Mortgage. Sandy has lived in Tucson for over 20 years and has helped citizens get Tucson home loans for over 15 of those years. He is committed to serving the needs of his clients and loves helping other people in Tucson to get into their dream homes.
Apart from the reverse mortgage solutions that he specializes in, Sandy also provides other mortgage services as well. The two main other kinds of Tucson home loans that he provides are forward loans for real estate purchases and refinance transactions.
Real Estate Loans for Purchases
Sandy's excellent business relationships with area realtors and real estate developers have made him a go-to Tucson home loans consultant for people who want to buy houses in the Tucson area both for new construction and existing homes. Whether you are trying to purchase a dream home to raise your family or you are downsizing as an empty nester, Sandy can provide the financing you need. As a trusted mortgage lender, Sandy understands Tucson home loans and can help you make the best decision for your financial future.
Refinancing Your Tucson Home Loan
Refinancing is something that not all homebuyers are familiar with, however, it can be a useful tool for many. What it involves is replacing an old home loan or mortgage with a newer one – either at a newer rate or under different terms. An example might be refinancing an adjustable rate mortgage (ARM) into a fixed-rate mortgage in order to save on interest payments.
Where Sandy's expertise in Tucson home loans can help is with his close working relationships with local banks and his experience in negotiating for his clients to reduce transaction fees and other issues that often trip up people seeking refinancing. While it is often obvious for Tucson home loans borrowers that they should be able to save money through refinancing – the math sometimes does not add up when the lender is not willing to work with the borrower to keep fees and refinancing costs as low as possible.
Refinancing your Tucson home loan is often ideal for homeowners who are planning to remain in the same house for many years. This might include young or middle-aged families who are settled in to their Tucson home, are happy with their existing residence, and do not plan to move for at least the next several years.
Learn More About Tucson Home Loans
To learn more about Sandy McKee's expertise as a reverse mortgage lender or with other types of home loans and to find out if he can help you, contact Sandy online or by phone today.